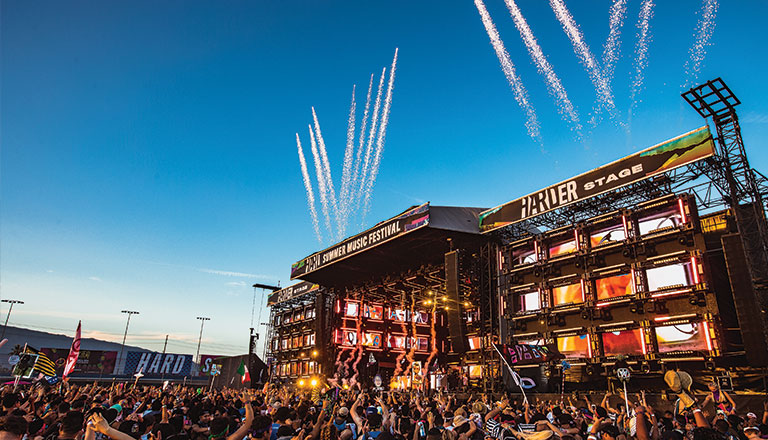 Ticketing FAQ
Are tickets expected to sell out?

There is always a chance that the event will sell out, in which case no more tickets will be sold. So, don't miss out—get your tickets now!

What payment methods can be used to purchase tickets?

Credit and debit cards are accepted.
What happens if I stop making my layaway payments?

If you miss your payment, you will have a 10-day grace period to pay your next installment before your order is canceled and subject to a default fee.
What is the maximum number of tickets I can buy?

Tickets are limited to four (4) per person.
Can I upgrade my GA tickets to VIP?

Upgrades may be available if VIP tickets have not sold out. Contact Front Gate Tickets for more information.
What if I accidentally bought VIP tickets and I'm under 21?

You must be 21 or older to enter the venue with a VIP wristband. To receive a refund, you must provide proof that you are under 21 years of age. Please contact Front Gate Tickets.
Can I get a VIP package if some members of my group are under 21?

No, only those 21 or older are permitted to enter VIP areas; and you must be 21 or older to enter the venue with a VIP ticket.
Should I receive a confirmation email for my purchase?

You should receive a confirmation email within moments of purchase. If you do not (be sure to check your spam folder), please contact Front Gate Tickets.
What if I purchased tickets but my card hasn't been charged yet?

Your card should be charged within two business days. If you do not see the charge on your account, please contact Front Gate Tickets.
Can I still buy tickets if the event is sold out?

To help keep the re-sale marketplace safe for our fans, you can now purchase tickets through an official, verified ticket exchange here. The tickets you see here were originally purchased by other HARD Summer fans who can no longer attend, and they determine the prices you see. While prices vary, fans will often list them at lower costs if you keep an eye out (though the lower priced tickets get snatched up quickly, so be vigilant). 
Can I sell my tickets?

If you purchased a ticket and can no longer attend the festival, you can use the official ticket exchange to resell your tickets. To list your tickets for sale on the exchange, sign in to your Front Gate Tickets account at hardsummer.frontgatetickets.com and under "Your Account" select "Order History" to list your ticket on the Ticketmaster Verified Exchange.
What's the difference between GA+ & VIP?

GA+ is an experience for fans who are 18+ which includes expedited entry, dedicated entry and special access to premium, air-conditioned restroom trailers.

VIP is our elevated VIP experience for 21+ with extra perks. See our Tickets page for full list of amenities.
I ordered my tickets to be shipped to me. When will I receive them?

Tickets will begin shipping closer to the event. If you have not received your tickets within one week of the event, please contact Front Gate Tickets.
How can I avoid ticket fraud?

The best way to avoid ticket fraud is to buy directly from Front Gate. If you buy resale tickets, we advise you to get them only from trusted friends. DO NOT purchase from scalpers. If you arrive at the venue with an illegitimate ticket, you will be turned away, and no refund will be provided.